My comment on the book
Nutrition mania by Uwe Knop
"Allow yourselves the luxury of having your own opinion." – Uwe Knop's book ends with this quote from Otto von Bismarck. And that is the program.
The graduated nutritionist, who has been publishing in the health sector for many years, with his book addresses the actual essence of the nutrition problem.
And that's the fear! The fear of eating something unhealthy or not meeting the demands of the latest nutritional wisdom. The fear of getting sick because of the wrong food combination might be on your plate.
With a simple and clear view, he guides us through the "Champions League" of nutritional studies.
He points out the clear "swallows" with which until today "scientific" conclusions are drawn from the usual observational studies of nutritional medicine.
Many specific examples, such as "chocolate against stroke", or "milk can kill" illustrate how the entire matter is being marketed in terms of popular science.
With the credo "No healthy person needs nutritional science", he builds up trust in one's own "culinary body intelligence" again, page by page.
In this way, everyone should be able to reconnect instinctively to their original eating behavior on the basis of the body's own intelligence. A study or a body feeling? Who makes the point?
Considering our previous time of survival without a scientific advisory board, the point probably goes entirely to the body's intelligence.
However, this is already brought up to us from childhood. Children, who still have a body-intelligent feeling of satiety, are being forced to eat their plates empty in order to save the "weather".
Vegans, vegetarians, paleo eaters, clean eaters, slow carbers, dieting popes, Uwe Knop gives all nutritional hypochondriacs their "fat off". And that sets you free.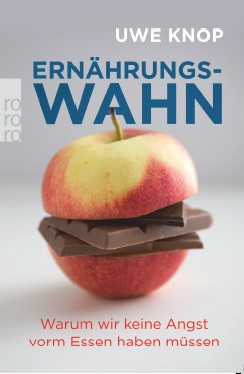 I personally can only advise everyone to invest this 9.99€. It encourages you to think. Furthermore, I am sure that every year there are more people who die from the consequences of their bad consciences, than from bad food or drink itself!
But as Knop says himself: " One doesn't know anything for sure!!!".
All those interested can order this book
HERE